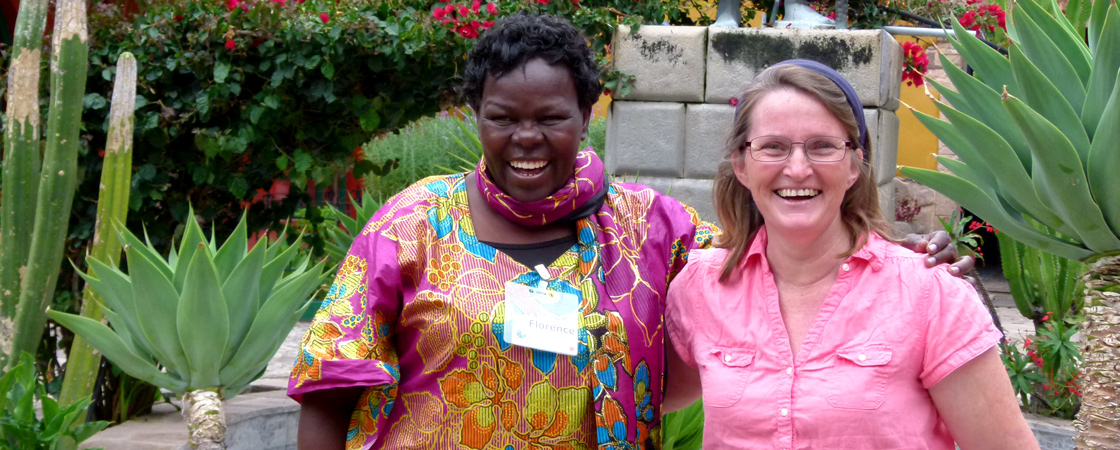 Giving
Reflecting on World Quaker Day 2017
Where in the world have you worshipped? This was the question I posed to Friends at the rise of meeting on World Quaker Day last year. I had brought FWCC's new Finding Quakers Around the World map and asked everyone to take a moment during hospitality to post a pin in cities where they had attended Quaker meeting.
That day I learned that the members and attenders of my meeting are a well-traveled group. Together, we had visited sixteen countries on five continents, as well as towns all over the USA - including Alaska and Hawaii. But I also got a chance to talk with Friends who I don't often connect with; I felt renewed in my curiosity and engagement with my meeting.
How did you mark World Quaker Day in 2017? Did you use one of the vibrant resources that FWCC Section of the Americas created for this purpose? The QuakerSpeak videos with religious education curricula, banners and posters, and other ideas for celebrating are collected on our website. Hopefully these resources helped start spirited conversations and spark new connections among Friends at your meeting as well.
Our Facebook page lit up with stories of shared joy and worship around the globe on World Quaker Day. This is the work of FWCC: giving Friends the tools to reach across distances great and small, to connect and reconnect over our shared faith.
Your support ensures that FWCC will be able to keep joining Friends together, whether it is traveling to worship with one another or hearing an online message that seems crafted for each of us individually. We all need these connections to keep us active and engaged in our communities. Thank you for helping keep our work alive.
In Friendship,
Blythe Davenport
Donate Now
EIN: 23-1353362
Mailing Address
Friends World Committee for Consultation Section of the Americas
1506 Race Street
Philadelphia, PA 19102
---
Sustainers
Help your support of FWCC go further, while making contributing easier. Consider becoming an FWCC Sustainer with our automated giving program. When you register, your gift is transferred automatically from your bank or credit card to the FWCC on a monthly or quarterly basis. With this program you can eliminate check writing, bank fees and postage costs.
Advantages
You provide FWCC with steady income all year long
You receive only one appeal letter a year
You can spread your tax-deductible contribution over the entire year
We reduce our administrative costs for fundraising and processing donations
Frequently Asked Questions
How does the automatic gift plan work?
You can have a set amount transferred from your bank account, or from your VISA, Mastercard, or Discover card to FWCC on a monthly or quarterly basis.
How can I increase or decrease my gift amount?
Just contact FWCC and tell us your new amount.
Will I have a record of my contributions?
Besides your monthly checking account statement showing the date and amount of the transfer to FWCC, we will send you a year-end statement listing your donations.
What if I change my mind?
Just write us if you want to stop the automatic transfers or if you move or change banks. To change or cancel authorization, please let us know 15 days in advance of a scheduled transfer date.
How much can I give each month?
Any amount, but the minimum for processing efficiency is US$15 per month.
Can I donate from outside the United States?
We can accept international credit card transactions. Direct bank transfers must be drawn from US banks.
---
Charitable IRA Rollover/Qualified Charitable Distribution
A TAX-SAVING WAY TO SUPPORT FWCC
If you are 70½ years old or older, you can take advantage of a simple way to support FWCC and reduce your taxable income at the same time, even if you don't itemize your deductions on your tax return.
At the end of 2015, legislation was enacted making the "IRA Charitable Rollover" a permanent gift option. With this strategy you can give to FWCC or other qualified charities directly from your IRA without having to pay income tax on the distribution. This is especially important now that the standard deduction has doubled, since many older taxpayers will no longer benefit from itemizing their deductions, including charitable contributions.
If you have not taken your required minimum distribution for the year, an IRA charitable rollover gift can satisfy all or part of that requirement. You can designate the distribution to one organization or split it between several, and these transfers generate neither taxable income nor a tax deduction, so you realize a tax benefit even if you are using the standard deduction.
One catch: to make an IRA charitable rollover gift you must be at least 70 ½, and you must arrange with your IRA custodian or financial institution to make the gift directly to FWCC or another charity—you cannot first take the distribution from your IRA and then distribute the proceeds yourself. If you are interested in knowing more and/or would like to take advantage of this strategy for giving to FWCC, please contact Robin Mohr at robinm@fwccamericas.org to discuss the simple steps involved.
---
Financial Resources
Donating Securities
Legacy Giving
---
Get involved
Find out how you can help FWCC and your local meeting