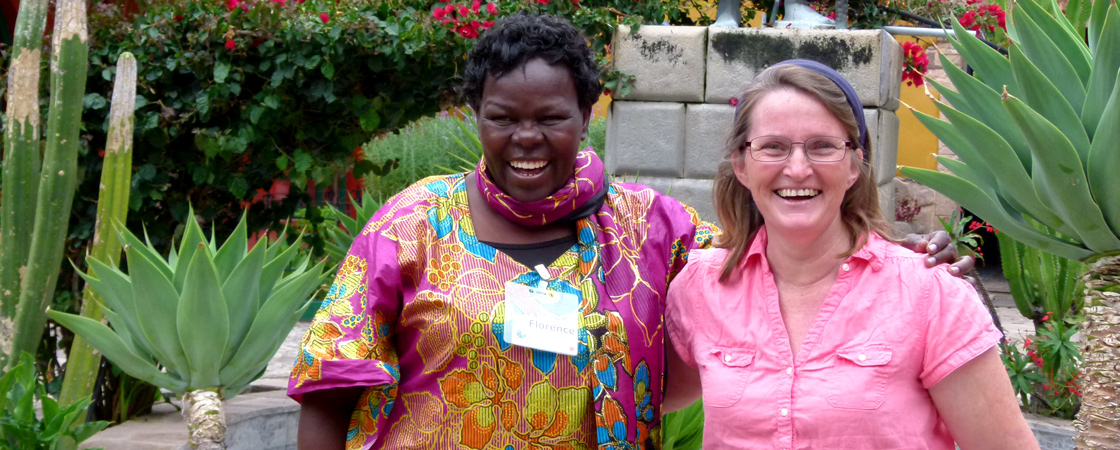 Giving
Support FWCC's Traveling Ministry Corps
Dear Friends,
Strong support from Friends like you made it possible for ten Spanish-speaking and eight English-speaking ministers in FWCC's Traveling Ministry Corps to visit over 30 meetings in six countries in the Americas last year. Thank you for helping facilitate loving understanding among Friends from the Arctic to the Andes!
We are asking you to renew and, if possible, increase your support, so that our traveling ministers can benefit even more members of meetings and churches across all branches of Friends this year.
You may know that:
"Throughout significant portions of Quaker history the traveling ministry has been the lifeblood of the Religious Society of Friends… In succeeding generations, as our religious society became settled … and as we became more geographically dispersed, the traveling ministry helped to provide needed communication between the various groups of Friends.… Traveling ministers were certified and trusted outsiders to the meeting's "politics." In this capacity they could be of enormous service to the community. Their ability to discern the spiritual health of the meeting, their mediating influence to reconcile differences, and their liberty to speak out on potentially difficult issues both spiritual and temporal were often very helpful to Friends."
(Jonathan Vogel‐Borne, "Traveling in the Ministry")
Traveling as a Quaker minister is amazing, demanding, full of surprises and moments of breathless beauty. It's wrestling like Jacob with the midnight angel.
I spent six days visiting Friends in Denver with my husband Jonathan as elder. While there I led a retreat titled "Practical Spirituality in Times of Crisis." I shared stories of how Quakers like Lucretia Mott (Philadelphia Yearly Meeting 19th century) and Jim Corbett (Intermountain Yearly Meeting 20th century) addressed the challenges of their own times. What can we as Quakers do to flourish in these times? We looked for common ground, practiced the two hands of non-violence, laughed during community building, and even learned a song composed by a Friend from Denver.
Meeting new Friends offers me times of gratitude-- I receive so, so much. I got five times more gifts than what I expected - the gift of 30 voices gathered in song, the gift of a new way to introduce worship, the gift of a five-year-old showing me how to eat a cherry tomato. When I held out my hand to eat the tomato properly, he quickly popped the tomato in his mouth. This angel made me chuckle. I learned an approach to welcoming to Meeting a person convicted of murder--a similar issue that my Meeting struggled with. Our two meetings are also grappling with questions ranging from "Why does someone bother to be a member?" to "Where are the young adults?" These gifts are heavenly gems gleaming as we open our tight hands.
Working within the embrace of FWCC, doors swing open wide. Strangers become friends. We accept our sharp edges and seek forgiveness. Through FWCC, love knits friends as family. I'm grateful for all the guiding angels and for FWCC.
In today's complex world, it is just as important for Friends to meet "face-to-face and heart-to-heart" to share both that which unites and that which divides us in the life of the Spirit. This open exchange builds understanding, respect, trust and love, and, with God's help, renews awareness of the worldwide family of Friends.
Please join us in supporting FWCC with a generous contribution today! Every gift makes a difference in bringing Friends together in worship and consultation, in a world that urgently needs more integrity. More reconciliation. More love.
In God's unending love,
Elizabeth Claggett-Borne, New England Yearly Meeting
Donate Now
EIN: 23-1353362
Mailing Address
Friends World Committee for Consultation Section of the Americas
1506 Race Street
Philadelphia, PA 19102
---
Sustainers
Help your support of FWCC go further, while making contributing easier. Consider becoming an FWCC Sustainer with our automated giving program. When you register, your gift is transferred automatically from your bank or credit card to the FWCC on a monthly or quarterly basis. With this program you can eliminate check writing, bank fees and postage costs.
Advantages
You provide FWCC with steady income all year long
You receive only one appeal letter a year
You can spread your tax-deductible contribution over the entire year
We reduce our administrative costs for fundraising and processing donations
Frequently Asked Questions
How does the automatic gift plan work?
You can have a set amount transferred from your bank account, or from your VISA, Mastercard, or Discover card to FWCC on a monthly or quarterly basis.
How can I increase or decrease my gift amount?
Just contact FWCC and tell us your new amount.
Will I have a record of my contributions?
Besides your monthly checking account statement showing the date and amount of the transfer to FWCC, we will send you a year-end statement listing your donations.
What if I change my mind?
Just write us if you want to stop the automatic transfers or if you move or change banks. To change or cancel authorization, please let us know 15 days in advance of a scheduled transfer date.
How much can I give each month?
Any amount, but the minimum for processing efficiency is US$15 per month.
Can I donate from outside the United States?
We can accept international credit card transactions. Direct bank transfers must be drawn from US banks.
---
Charitable IRA Rollover/Qualified Charitable Distribution
A TAX-SAVING WAY TO SUPPORT FWCC
If you are 70½ years old or older, you can take advantage of a simple way to support FWCC and reduce your taxable income at the same time, even if you don't itemize your deductions on your tax return.
At the end of 2015, legislation was enacted making the "IRA Charitable Rollover" a permanent gift option. With this strategy you can give to FWCC or other qualified charities directly from your IRA without having to pay income tax on the distribution. This is especially important now that the standard deduction has doubled, since many older taxpayers will no longer benefit from itemizing their deductions, including charitable contributions.
If you have not taken your required minimum distribution for the year, an IRA charitable rollover gift can satisfy all or part of that requirement. You can designate the distribution to one organization or split it between several, and these transfers generate neither taxable income nor a tax deduction, so you realize a tax benefit even if you are using the standard deduction.
One catch: to make an IRA charitable rollover gift you must be at least 70 ½, and you must arrange with your IRA custodian or financial institution to make the gift directly to FWCC or another charity—you cannot first take the distribution from your IRA and then distribute the proceeds yourself. If you are interested in knowing more and/or would like to take advantage of this strategy for giving to FWCC, please contact Robin Mohr at robinm@fwccamericas.org to discuss the simple steps involved.
---
Financial Resources
Donating Securities
Legacy Giving
---
Get involved
Find out how you can help FWCC and your local meeting