"We send them forth on wings of love": The FWCC Traveling Ministry Corps.
by Chuck Schobert, Member of the 2016-17 Traveling Ministry Corps
There were seven of us.  Four North Americans and three Bolivians.  Evangelical and unprogrammed worship styles.  Different languages. Cultures. Social attitudes.  We spent just over two FULL days together learning about each other's spiritual journey's, sharing worship "styles", singing, trading experiences of traveling in the Quaker ministry, the joys and the pitfalls. We were the inaugural "class" of the Traveling Ministry Corps of the Friends World Committee for Consultation, Section of the America's (FWCC-SOA).  Despite this time together, we all knew the actual training would be in our travels, with God as our teacher.
We had three trainers, and two elders holding us in prayer (one of whom was NYM's Susan Greenler).   The work went prayerfully deep and God was with us throughout. As we grew closer, I felt God becoming nearer.  We were often moved to tears, especially when we talked about the divisions among Friends.  Those wounds.  Our wounds. And yet, much hope……….embracing the opportunities, the possibilities of our common ground to explore what Friends can do as a prophetic people to bridge those divisions.  We came to realize that by crossing our own Quaker divisions, we can take that healing knowledge out into a broken world and "be patterns, be examples".  No one pretended THAT would be easy!  These Friends are living their faith into action.  And I love them all, these sisters and brothers, even though we don't agree on every thing.  In a broken world, our allies in healing will not always be "like us".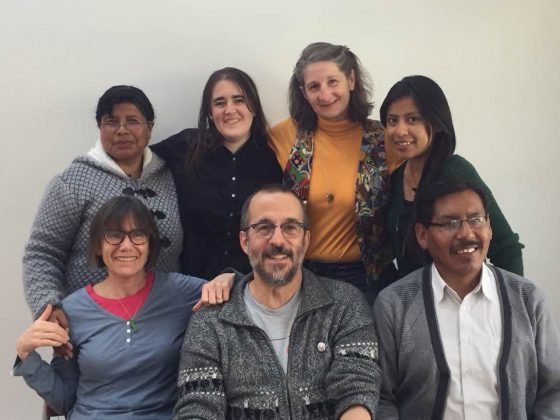 The seven ministers.  Clockwise from lower left: Julie Peyton, Northwest Yearly Meeting; Augustina Callejas, National Evangelical Friends Church INELA-Bolivia; Emily Provance, New York Yearly Meeting; Debbie Humphries, New England Yearly Meeting: Estefany Vargas, INELA-Bolivia; Hector Castro, INELA-Bolivia; Chuck Schobert, Northern Yearly Meeting.
The FWCC Section of the America's plans to make the Traveling Ministry Corps its major focus in 2017.  Rather than organize large meetings requiring many Friends to travel great distances at great expense of money and cost to the environment from airplane travel, the intent is to send out ministers by twos, a minister and an elder as companion, to visit or connect with churches and meeting in the Section over the next five years.  After a year, our group will meet again in community, to learn from each other and help train the next "class" of the Traveling Ministry Corps, which we hope to be primarily young adult Friends, if that is God's will.
Immediately following the training, the biannual Section of the America's meeting began.  This rich time was chock full of plenary talks, worship, singing, committee work, good food and fellowship.  In the midst of this meeting, the body held a blessing for the seven ministers.  We sat in a ring together in the center of the auditorium, full of Friends in worship.  The Clerk of the Section spoke of sending the ministers off from the "ring of fire" and shared his image that we were embarking in "little boats" to carry out the work God gives us.  At this point, he invited the rest of the Friends, 100 or so, to lay hands on us and asked people approaching the growing circle to continue to lay hands on the people in front of them, forming concentric circles of humans, holding the seven ministers like a woven basket of concentric human circles, holding our little circle of seven in prayer.
The circle of seven ministers surrounded by concentric circles of Friends for the blessing as we are sent out to do God's work. 
A beautiful blessing, writing by Susan Greenler, was read.  We continued in silent prayer for several minutes.  The circles created a spiritual, human well that was filled with the Living Water of God and love from our friends.  I can't say exactly what happened, but I was changed.  Transformed?  The quote from the journal of George Fox came to me:  "All things were new, and all the creation gave another smell unto me than before, beyond what words can utter".  So I end with Susan's blessing and the query that came to me after the blessing: "What just happened?"
BLESSING FOR TRAVELING MINISTRY CORPS
God of compassion,
God of love,
With Christ's light, and with God's love,
We send forth these seven traveling ministers, Part of our world community of Friends.
We send them forth on wings of love,
To share the Gospel ministry as they are called and led. As part of our beloved community.
We hold them tenderly in our hearts.
May they be graced with light and love
As they go forth – open vessels, giving and receiving.
May they be open, vulnerable, protected.
Building bridges of faith,
Opening us all to the power of God's love and Christ's spirit.
Blessed be.
—Susan Greenler